Taking our online traffic school will dismiss your eligible traffic in any California Court. We guarantee you a DMV licensed California Traffic School, free completion reporting and an instant certificate. Here's how it works: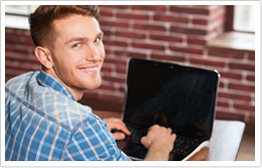 Erase your Ticket in 3 Easy Steps.

Our simple registration is all you need to be back in the driver's seat in no time.

After completing our course material, you wil need to pass our exam with a score of 70%. By using our convenient read along function, you can listen to the text from anywhere!

We automatically report your completion to the DMV who then reports it to the proper Court. No need for any extra fees. You also receive a proof for your records.
Our Course is
#1

because
More than 15 Years of innovation
State approved courses
Course material created by professional educators and traffic safety experts
Unmatched customer service, with 24/7 course access
Member of the Better Business Bureau
Over a 400,000 satisfied customers!
Immediate Proof of Completion
Electronic Filing With Courts & DMV
Money Back Guarantee
Self-Paced Course
$24.99 Final Price
DMV-License #E0739
It's all online, so you can take the course at your convenience! No downloads, no installations just you, your computer and some free time. That's all you will need.